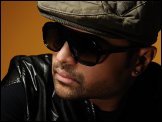 A
fter long silence Himesh is coming back with a international album 'DA EDGE' in a new avatar. It is reported that Himesh who is not in B-town for a long period is now will soon launched a international album 'DA EDGE' which will be released in 122 countries. He will also bring a his new avatar through this album.
As we know, Himesh is always comimg up with experiments every year, then how without experiment this time. Himesh will be there in many different looks in the album.His new video album would be directed by Roman White. The duo responsible for giving Himesh this brand new avatar are Damian and Avigail who are famed for pop star Rihanna's complete makeover from Umbrella to Only Girl.
When asked about his new look, Himesh said, "I loved working with Damian and Avigail and I'm really looking forward to shooting the videos soon with Roman White all over the globe. This year will be a very exciting one because I'm going to come out with a lot of new music content. I'm also looking forward to my Studio 18 film directed by Swapna Joshi which is set for a June release. I'm sure this film will prove to be a turning point for me as an actor. Besides this, I will also shooting for two more films soon."
Damain and Avigail's clients include Rihana, Ciara, Eliza Doolittle and Kelly Osbourne. Damian said, "The most exciting part of styling Himesh was the opportunity to work with someone who has such a wealth of experience in another culture to mine. Himesh's direction was very precise and this enabled me to give him a contemporary look and unique style."
Himesh's music publishing company HR Musik Limited will simultaneously be announcing the names of featured artists who will be collaborating with him on this international album.